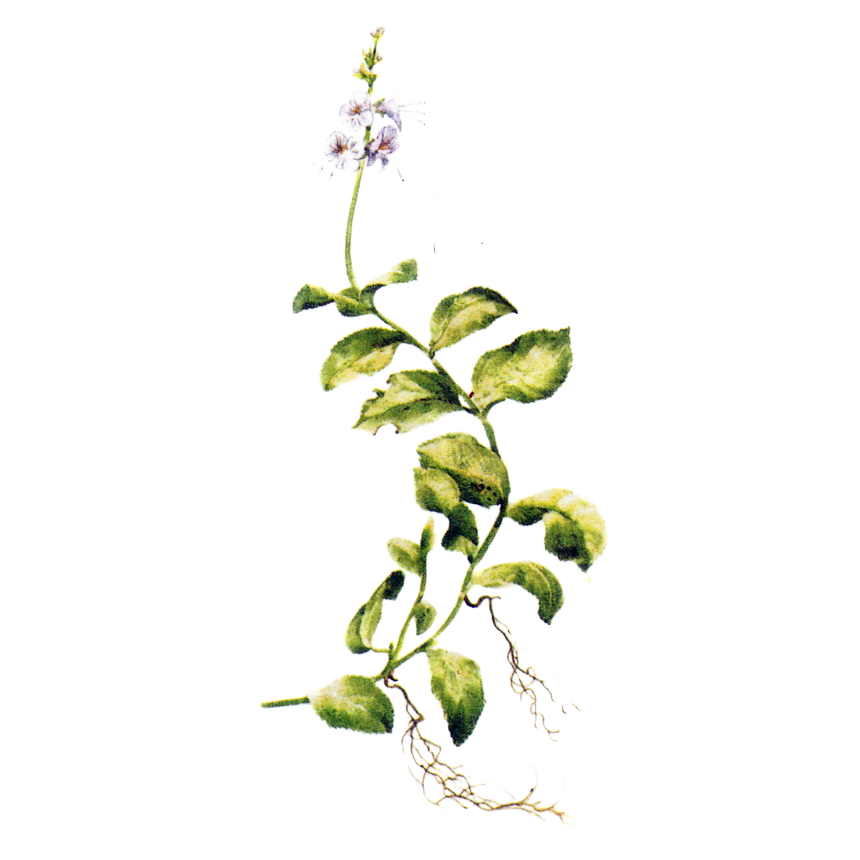 Veronica, Bird's Eye, Ground-well and Common Speedwell.
When the Romans conquered Germanic lands, they learned from the old Teutons about the great value of this much esteemed herb. The Romans, as I read in an old herbal, must have been convinced of this herb's great value. If they wanted to compliment an acquaintance of a friend, they said he had as many good qualities as the highly esteemed Speedwell.
This saying I remembered, when one day a gentleman told me of the high cholesterol level in his blood. He had been to hospital several times. I recommended Speedwell, two cups per day. My pleasure was great when, six months later he told me the doctors were surprised there was no high level of cholesterol, when shortly ago they gave him a check-up.
Speedwell likes dry ground and grows in woods, copses, heaths, hedgerows, edges of woodlands and paths. It has a creeping, hairy stem with little finely-toothed silvery leaves and clusters of light-blue to purplish flowers. When touched the leaves fall off easily. The time of flowering is May to August. The flower heads are gathered. Most effective are those plants which grow on the edge of woods and under oaks.
This traditional herb is a favorite addition to teas that cleanse the blood and, together with fresh Stinging Nettle tops, it heals chronic eczema. It is especially recommended for senile purities. Weak people tolerate it as a stomachic of gentle action which also stimulates digestion. Fluids and mucus in the stomach and intestinal disorders are eliminated.
Speedwell is efficacious for old, dry bronchitis. For chest complaints, a tea is made from an equal proportions mixture of Lungwort (Pulmonaria officinalis), Coltsfoot, Plantain and Speedwell, sweetened with honey or raw sugar.
I would like to point out that Speedwell has a great medicinal value for nervousness caused by mental over exertion. One cup drunk before going to bed, through its soothing effect, is highly beneficial. The Abbé Kuenzle recommends this soothing tea to people who have to work a lot with their head. It brings I good memory and disperses dizziness. Mixed with Celery roots it rectifies weak nerves as well as depression. Even for jaundice and gravel in the bladder, rheumatic and gout pain in the limbs, Speedwell is very effective.
A priest relates: "My memory lapses disappeared surprisingly after drinking tea, prepared of equal amounts of Speedwell and Horsetail (2 cups per day). I had become uncertain and worried, when during sermons I forgot important words. The herbs have helped very quickly."
For jaundice, liver and spleen disorders, I recommend the following mixture; 50 gm. Dandelion roots, 25 gm. Wild Chicory f lowers (Cichorium intybus), 25 gm. Woodruff (Asperula odorata) and 50 gm. Speedwell. 2 cups of this unsweetened tea are sipped throughout the day (1 heaped teaspoon of herbs per cup of boiling water).
The fresh juice prepared from the flowering plant, is recommended for chronic skin disorders, especially for eczema (see "directions"). One teaspoonful of the juice is taken 3 times a day. I recommend Speedwell, in old herbals praised as a wound-herb, for all inflamed, non-healing wounds, especially wounds near the shinbone. The wound is washed with a decoction of Speedwell and then compresses made from the freshly prepared infusion are applied, wrapped up warmly and left on overnight.
People who suffer from rheumatism and gout should try the easily prepared Speedwell tincture (see "directions"). This tincture is used externally as a friction; internally 15 drops in water or tea are taken three times a day.
Be sure to drink a tea prepared from the freshly picked herb for a period every year! Speedwell not only prevents arteriosclerosis, it gives the body new elasticity through its purifying action. Therefore my request: Take my advice!
INFUSION: 1 heaped teaspoon of herbs per cup of boiling water, infused for a short time.
FRESH JUICE: The freshly picked flower heads are washed and, still wet, put into the juice extractor. The juice is poured into small bottles and stored in the refrigerator.
TINCTURE: 1 heaped double handful of the finely chopped flowering plant is macerated in 1 litre of 38% rye whiskey or vodka and placed in the sun or near the stove for 14 days.
TEA MIXTURE: 1 heaped teaspoon per cup of boiling water, infused for a short time.